Clondanagh Cottage Bed and Breakfast and Angling Centre in Tulla Co Clare is situated in the heart of the East Clare Lakelands. The cottage  overlooks and has private lake frontage onto Clondanagh Lake. The East Clare Lakelands is known to provide great coarse fishing (including bream and tench fishing) and some of the best fishing anywhere.
At Clondanagh Cottage we offer free use of our boat and fishfinder to our our guests.  We can also hire of a complete range of fishing tackle for coarse anglers. 
The Tulla catchment area has over 1400 acres of well stocked lakes with more than 40 of these lakes within a ten mile radius of  our cottage and angling waters are well serviced with car parks, piers, stiles for easy access, fishing platforms and boats for hire. We also offer expert advise on the local fisheries, with excellent maps and up to date information on the best spots. 
At our Angling Centre we also provide storage sheds, tackle room with drying facilities and bait fridges and of course bait can be ordered in advance of your trip.
FROM YOUR HOUSE TO OURS IN A FEW HOURS. WHY NOT TRY OUR FLY/DRIVE SERVICE?
Since 2008 we have provided a Fly/Drive service for the angler.  For those of you who wish to avoid long car journeys, traffic jams and ferry crossings why not try this new service.
Simply book your flight to Shannon, pick up your car and you can be with us in no time - Clondanagh Cottage is less than 30 minutes from Shannon airport. Alternatively we can collect you for free.
All you need for a coarse angling holiday is here. We supply a complete stock of seat boxes, rods - feeder and float, landing nets and keep nets, platforms and umbrellas and of course a large selection of terminal tackle.
Ivan O'Connell East Clare Fishery 2008
Kevin Mc Ardle Liverpool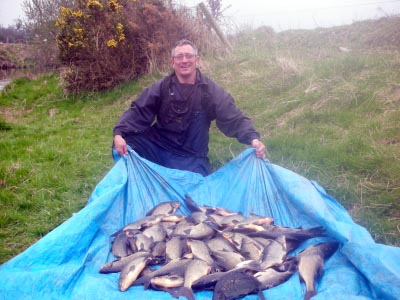 Derek Witherspoon Liverpool
Tony Newman Liverpool
Michael Belgrave and Paul Brotherton Worcester on Clondanagh
Tim Barnsley East Clare Tench Fishery 2008
Ian Hellewell Bream Catch in Clondanagh
Neil Payne and Nick Gedney from Coventry with a Tench Catch 2007
Neil Payne Clondanagh Lake 2008
Nick Gedney Clondanagh Lake 2008
Maguire family on Clondanagh 2008
The Anglers Prayer
Lord Give me the grace to catch a fish
So big that even I
afterwards when when talking of it
May have no need to lie

Marc Lowey night fishing in the East Clare Lakelands 2007
Marc Lowey on Clondanagh 2008
Marc on East Clare river 2008 [Fish returned to water]
Alan and Clint from Cambs U.K. relaxing outside the tackle room at Clondanagh Cottage.

Arunas from Galway Coarse Angling Club on Clondanagh Lake
Darren McDonagh West Yorkshire landing a Tench
Chris Hare 2008
Martin Loveridge from Lincolnshire
Johnny from Belgium on Clondanagh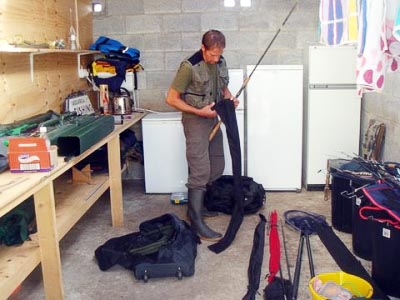 Tackle Room
Terry Higgins West Yorkshire with 4lbs 6oz perch on Clondanagh Lake
Breakfast by the lake
East Clare Tench Fishery
At the end of the day