Beside the fruit garden, outdoor seating and a chimnea are provided and visitors can enjoy a glass of wine and relax in front of the peat fire.
Because many of the natural hedgerows have been retained around the Cottage, we have an excellent variety of  song birds all around us such as the blackbird, thrush and pheasant.  Visitors to our bird table include robins, dunnocks, warblers, coaltits and finches.  Swallows and starlings nest in our sheds and the cuckoo can be seen and heard in early summer.
Sandy McNamara and Kate Nugent Bradford P.A. on a return visit in May 2007
Cordula, Klaus, Stella and Angela from Germany
Feeding time in the garden
Feeding time in the garden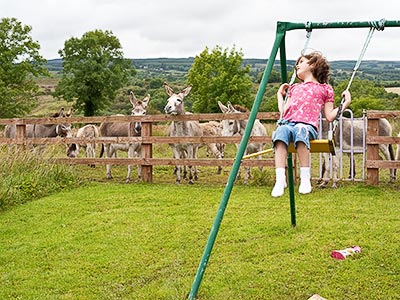 In the garden we also have a variety of playground equipment for children to enjoy.
Having a break